Our Mission
Towards Global Reciprocity
AltSalt is founded on the Andean principle of ayni, or reciprocity.
"Reciprocity" for us means a balanced giving and receiving of perspectives, and it can take many forms — within communities, across communities, between minority communities and society, even between people and nature!
By creating a space for sharing stories across disciplines and communities, AltSalt aspires to promote more reciprocity among our members.
In sharing our collective insights, humor, and more, we hope to lift one another up, fostering discovery and connection that might not have happened otherwise. And being together in one place, we can create a platform that makes it easier for others to discover our voices, and for us to create dialogue with the rest of the world.
We see promoting global reciprocity as playing our small part in making the world a better place (hopefully we can even take the lessons learned here and apply them in other areas of life!) It's a fun journey; we'd love for you to be a part of it.
Alternative Voices, Alternative Formats
AltSalt is founded on the premise that zinesters, comics creators, electronic literature makers, story-driven game developers, and more, from both underserved groups and allies, deserve a space to exhibit their stories and build community together.
BIPOC, LGBTQIA+, cis women, folks with disabilities, and allies — we deserve the ability to create new representations of our cultures, to push boundaries in our mediums, to easily discover one another's voices, and to provide support to each other.
Our community is interdisciplinary. From print to digital literature and beyond, we recognize work being created across alternative literary formats.
Let's create a space for us.
Alternative voices.
Alternative formats.
This is AltSalt.
Independent Creators
We don't seek to build another storefront like Amazon. We value creator independence and nothing is sold on AltSalt.
AltSalt is a directory of indie creators and their work. No large publishing houses. No commissions on work sold. Just discovery, and connection.
We're curated by a group of volunteers and are completely self-funded.
Behind the scenes, we're continuing to build AltSalt as a resource and community. Sign up for our newsletter to get updates, and join us on Discord!
About the Founder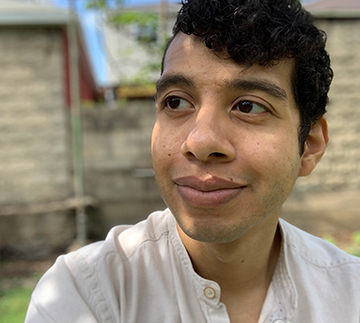 Hi! I'm Artemio. A couple of years ago, I embarked on a journey to discover more about my Peruvian background.
The child of two immigrants, I grew up feeling out of place in the United States. Caught between two worlds, I buried any attempt to understand my divided identity.
Years later, having assimilated and gotten a job as a web developer, I began to search for stories about my Andean heritage.
During my search, despite the wealth of information available online, I discovered that finding these stories was harder than it should have been. What's more, I realized that my friends, both in BIPOC and digital literary spaces, were running into the same issues.
So I wondered, what if there were a space online that welcomed "alternative" voices from underserved communities — immigrants, BIPOC, LGTBQIA+, women, folks with disabilities, experimental creators — to easily share their work?
I started prototyping, ran it by some friends, and here we are!